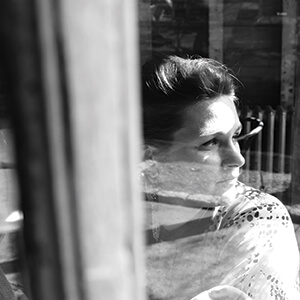 Twenty years after her recording debut, Dreamland, Madeleine Peyroux continues her musical journey of exploring beyond the ordinary with Secular Hymns, a spirited and soulful masterwork of loping, skipping, sassy, feisty and sexy tunes delivered in a captivating mélange of funk, blues and jazz.
With her trio that had been touring together for two years—electric guitarist Jon Herington and upright bassist Barak Mori—Peyroux set out to record in a live setting a collection of songs that have their own hymn-like stories of self-awareness and inner dialogue, a communal consciousness and a spiritual essence.
"Music has been our spiritual life," she says. "So I think of these as hymns, secular hymns—songs that are very individual, personal, introverted."
With her seductively expressive voice, Peyroux intimately renders tunes by seminal blues artists (two penned by Willie Dixon and one by Lil Green), the classic gospel singer Sister Rosetta Tharpe, the under-the-radar dub star Linton Kwesi Johnson, three renowned contemporary composers (Tom Waits, Townes Van Zandt, Allen Toussaint), the 19th century composer Stephen Foster (considered to be the first great songwriter in America) and ending with a traditional African-American spiritual.
What's remarkable is the unique way in which this recording came to life. The story starts with a concert in an old church in the rural Oxfordshire countryside of England. Celebrated French chef Raymond Blanc had purchased an old manor in the tiny village of Little Milton and renamed it Belmond Le Manoir where he hosts events, including a nine-course meal in his Michelin-starred restaurant. As a part of the whole experience, people are invited before dinner to go to the nearby 12th-century Norman-styled church, St. Mary the Virgin, to attend a concert of live music. Last year Peyroux and her trio were invited to perform.
"At the sound check, I was singing Randy Newman's song 'Guilty,' and it was amazing the way my voice sounded in the cavernous room," Peyroux says. "It has a wood ceiling that gave my voice a reverb. My live engineer Doug Dawson told me I should make a record there."
Fresh from the rarefied experience of performing their songbook there, a few months later, they all returned to the church with Peyroux wanting to document the secular hymnal she and her band had been developing on the road. "We had all become very close, and we were stretching to come up with new sounds," the acoustic guitarist says, noting that she had added a guilele (an acoustic, nylon-stringed tenor ukulele) to the voice of the band. "Jon became very versatile on the guitar and Barak was good with the bow. Plus they both like to sing. "
Peyroux booked the 200-seat church for three days—first day for set up and sound check, second for a free live show for townspeople that was recorded, and third to recut new live takes sans audience if needed. "It was a blast playing with Jon and Barak and so much had to do with the interplay among us," says Peyroux. "It's a recording that reflects the organic way we had been working as a trio on the arrangements of these songs."
While noting that she veers away from being "the normal jazz trio," Peyroux nonetheless brings her jazz sensibility into roots music territory in such a moving way that she captures the celebration and praise implied in the songs—a special ten-song collection of bona fide Secular Hymns.